Hey there, I'm Counselor Kyp'Asto!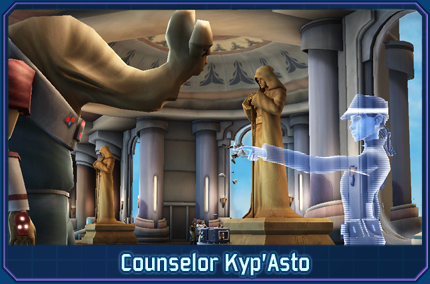 Most of my days are spent helping players in Clone Wars Adventures™! I'm all about making sure that everyone is having fun and everything is working as it should. Fixing things is my number one priority, and I have lots of fun while doing it. It's like a puzzle, but better, because when I'm finished, everyone's happy :)
When I'm not busy helping people, I spend most of my time playing Stunt Gungan™. I never get tired of flinging Jar Jar Binks™ through the air! When I'm not playing Stunt Gungan, I usually try playing Republic Defender or Droid™ Programming. I'm not the best at them, but they're still pretty fun. At the end of the day, I prefer to hang out in the Lounge with really cool people. Maybe I'll see you there some time!
External Links